Irvine Slip & Fall Lawyers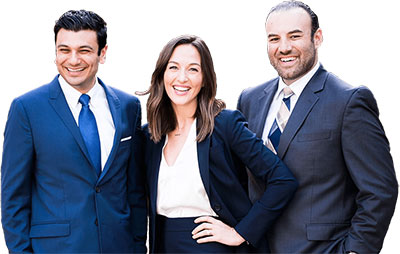 RMD Law LLP Works Hard to Get You Compensated
Cracked or slippery surfaces may seem benign until it is too late. If you have been harmed in a preventable trip and fall accident, you could be owed ample financial compensation.
In California, landowners owe you an absolute duty to keep their premises safe. For example, when you visit the grocery store, management must clean up a spill as soon as they know the floor is wet.
If they fail to do so, or fail to reasonably inspect the aisles for signs of wetness, injuries can and do results. These rules don't just apply to grocery stores; all kinds of landowners are subject to them, from the cities that maintain your sidewalk to keep it free of cracks, to the landlord at your apartment complex.
If you have been injured because of a slippery surface or if you have tripped on a hazard or uneven pavement, call the experienced Orange County slip and fall attorneys at RMD Law to see if you have a case: (949) 326-5000.
Our Recent Results
Orange County Trial Verdict

We obtained Orange County's 2nd highest verdict in California in 2020. Our client was rear-ended by a police officer.

Recently Recovered

RMD Law has recovered over $71 million dollars for our clients who have been injured in accidents. We can help you get the maximum settlement you deserve after an accident.
Steps to Take after a Trip & Fall Accident
If you have just fallen, it is absolutely critical to take a few steps to preserve the value of your case:
Take photographs of the dangerous condition from close up and far away.
Report the incident to management and fill out an incident if you can.
Get immediate medical attention for your injuries.
After a slip and fall injury, call the personal injury attorneys at RMD Law as soon as possible to preserve your case. Our slip and fall team can subpoena video footage of your fall, negotiate with the insurance companies, and provide you with excellent service while we hold the negligent parties responsible.
When to Sue After a Slip & Fall Accident
Sometimes, a slip and fall doesn't truly show the magnitude of its injuries until some time has passed. Even if you're not feeling any pain or soreness at the time of the fall, this doesn't mean your injuries won't take a while to appear–resulting in a number of medical bills, time spent in recovery, loss of work or wages, and more.
If you slipped and fell due to the negligence of another, it is essential you keep a record of any relevant information of the incident, so you can file for a personal injury claim within the statute of limitations.
Most injury cases may not be clear-cut right from the beginning. If you do not file a personal injury claim within the statute of limitations, you may face a series of blockages when you attempt to file in civil court. The clock begins the moment your injury occurs.
Should I Get a Lawyer for a Slip & Fall?
While it is not required by law that you work with an attorney in order to recover compensation in a slip and fall case, there are many reasons to do so. Working with experienced legal counsel offers a number of benefits when it comes to handling your slip and fall case and recovering fair compensation for your damages.
Slip and fall cases are rarely cut-and-dry. In fact, they are actually some of the most complex and often-disputed types of personal injury claims. The property owner may argue that they are not liable for your injuries because you alone were responsible for the accident. They may claim that they were unaware of the dangerous condition that led to the accident and your injuries or that you somehow contributed to the incident. These and other defenses can be a significant hurdle in your recovering your rightful compensation, but an experienced attorney knows how to fight back against these and other insurance company tactics used to deny liability.
Additionally, working with a slip and fall attorney can help you ensure that you do not make any critical mistakes, such as missing filing deadlines or failing to include information when filing your claim, that could end up costing you your right to compensation. Your attorney will also be able to conduct an investigation into the accident in order to determine how it occurred—and who is liable. Your attorney can talk to witnesses, gather your medical records, and put together a case that supports your claims. Importantly, your attorney can handle all of these things while you focus on getting the proper medical treatment you need to heal. Most people who choose to work with a slip and fall lawyer obtain faster, better settlements. While there are no guarantees in any given case, choosing to work with an attorney is always advisable when it comes to complex personal injury claims.
Don't Wait – Call Today to Discuss Your Case
As you can see, time is of the essence when it comes to the law. However, you need not fear to miss the appropriate timeline when you have RMD Law on your side. With the help of one of our slip and fall attorneys, you can rest assured we will keep you accountable for any and all due dates.
Call (949) 326-5000 or contact us online and learn how to get started.
If you have been injured because of a slippery surface or if you have tripped on a hazard or uneven pavement, then call the experienced Orange County personal injury attorneys at RMD Law to see if you have a case: (949) 326-5000.